For I am not ashamed of this Good News about Christ.
It is the POWER of God at work, saving everyone who believes
Ridge Kids COVID-19 Update
Ridge Kids is offered for Rock Climbers and Summit Kids (age 4- 5th grade) during the 10:45 am service.
Ridge Kids meets in the fellowship hall on the lower level. To follow current recommendations, chairs are spaced 3 feet apart and masks are required for everyone over age 5. Ridge Kids will be Livestreaming to our private Facebook group (Ridge Kids Family Guide) for children who can't make it in person.
Ridge Kids is consists of four ministry areas so that each age group has age appropriate lessons and activities:
Hilltop Nursery (Birth-24 months). In the nursery
Base Camp (2 years-4 years)
Rock Climbers (4 years-Kindergarten)
Summit Kids (1st grade- 5th grade)
Interested in Child Dedication?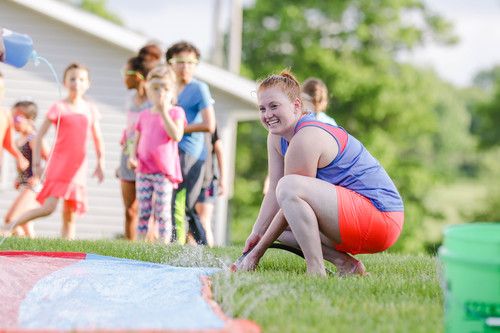 HILLTOP NURSERY (Birth-3 years) is located on the main level of the church. Our friendly volunteers will help your child get checked-in and you will be given a call number. Once service is done, please return with your call number to pick up your child.
ROCK CLIMBERS (4 years old - Kindergarten) and SUMMIT KIDS (1st-5th Grade) meet in the lower level. Both groups start out together in the fellowship hall for worship and announcements. Afterwards, children will move to into a different rooms based on age so everyone can engage in age appropriate learning through stories, games and activities.
We'd love to hear from you. Fill out the form below to get started.