For I am not ashamed of this Good News about Christ.
It is the POWER of God at work, saving everyone who believes
Ridge Kids COVID-19 Update
Ridge Kids is offered for Rock Climbers and Summit Kids (age 4- 5th grade) during the 9 am and 10:45 am service.
Due to social distancing guidelines, some changes have been made to how we will be doing Ridge Kids. If you plan on bringing your child/children please take a few minutes to talk to them about the changes so they know what to expect. The first and most important change is that we will be meeting in the fellowship hall where the chairs will be spaced six feet apart. Even with meeting in the fellowship hall, space is limited so we have to do an online registration. If you do not register, we cannot guarantee a spot for your child/children so please register as soon as possible.

When arriving at West Ridge, please park in the lower lot and enter through the lower entrance. Stickers will be on the floor spaced at least six feet apart. The registration desk will be located closer to the steps and will be operated by a Ridge Kids volunteer. Once your child/children are checked in, they can enter the Ridge Kids area and pick a chair to sit in. Around each chair will be a hula hoop to give them a little space to move around in. Prizes will be given to kids who are able to stay in their circles during the entire service.
Ridge Kids will be Livestreaming to our private Facebook group (Ridge Kids Family Guide) for children who can't make it in person. During the stream some children may be on camera. Please let us know if you give your permission for you child/children to be seen on camera on the registration form.
When service is done, please make your way downstairs for pick-up in a timely manner. Although you dropped your child off at the registration desk, pick-up will take place by the youth room near the lower level entrance.
Thank you in advance for your help in making the Ridge Kids relaunch go as smoothly as possible. If you have any questions, feel free to respond to this email. I look forward to being back together, having fun while learning about God!
Blessings,
Pastor RaDonna
Ridge Kids is consists of four ministry areas so that each age group has age appropriate lessons and activities:
Hilltop Nursery (Birth-24 months). In the nursery
Base Camp (2 years-4 years)
Rock Climbers (4 years-Kindergarten)
Summit Kids (1st grade- 5th grade)
Interested in Child Dedication?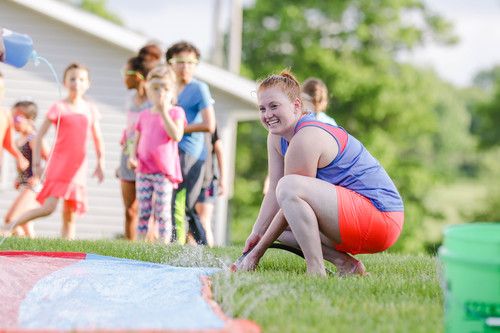 HILLTOP NURSERY (Birth-24 months) is located on the main level of the church. Our friendly volunteers will help your child get checked-in and you will be given a call number. Once service is done, please return with your call number to pick up your child. (Not Currently Meeting)
BASE CAMP (2 years old-4 years) meets on the lower level. Kids will have fun singing songs, doing activities, and hearing an age appropriate Bible story. (Not Currently Meeting)
ROCK CLIMBERS (4 years old - Kindergarten) and SUMMIT KIDS (1st-5th Grade) meet in the lower level. Both groups start out together in the Ridge Kids room for worship and announcements. Afterwards, Rock Climbers move to a different room so both groups can engage in age appropriate learning through stories, games and activities.
We'd love to hear from you. Fill out the form below to get started.