December 19, 2021 | 10 AM
It's time for our annual Christmas Program at West Ridge! This is an exciting time of year for our children to be involved in ministry. As our children participate in the Christmas Program, they will learn more about the birth of Christ and experience it in a new way.
Our Christmas program this year is a series of lighthearted skits retelling the Christmas story through the eyes of children. Between skits there are choreographed musical numbers and a time where the children will lead the congregation in Christmas carols.
The Christmas Program is Sunday December 19th at 10am.
All children who attend Ridge Kids will be able to participate on stage in some fashion.
Nursery (Infant-Age 2) will be featured on stage during the playing of the song "Angels We Have Heard on High". Your child will sit with you during the program and then when the song plays you can bring your child up and sit with them on the steps and sing along with the song.
Rock Climbers (Age 3-K) will help lead Christmas carols and learn the actions to a special song just for their class and the grand finale song. They also have the option to be in non-speaking roles in the skits and learn more advanced choreography for black light dance and flag dance.
Summit Kids (1st-5th grade) will help lead Christmas carols and learn the actions to a grand finale song. They can also choose to be involved in the skits in speaking or non-speaking roles and take part in the black light and flag dance. 4th and 5th graders who would rather be behind the scenes can serve as stagehands.
If your child desires to participate in the skits, dances, or as a stagehand please complete and return the permission form by
Sunday November 21, 2021
to Heather Lansing or Kaydee Hagen. They will work with you and your child to place them in roles where they can shine.
Feel free to invite as many friends and family as you'd like to the program. It's a wonderful time of the year to be blessed by the talent of our children.
For I am not ashamed of this Good News about Christ.
It is the POWER of God at work, saving everyone who believes
Ridge Kids is consists of three ministry areas so that each age group has age appropriate lessons and activities:
Hilltop Nursery (Birth-2 years old). Located on the Main Level
Rock Climbers (3 years-Kindergarten) Located on the Lower Level
Summit Kids (1st grade- 5th grade) Located on the Lower Level
Children's Programming is available at the 10:45 am service only at this time.
Interested in Child Dedication?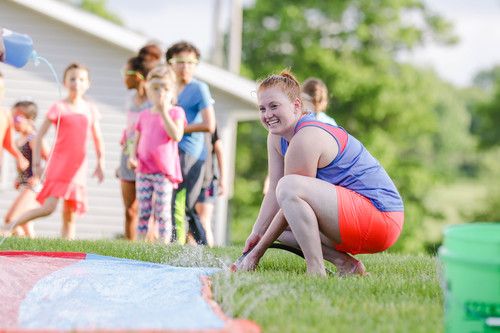 HILLTOP NURSERY (Birth-3 years) is located on the main level of the church. Our friendly volunteers will help your child get checked-in and you will be given a call number. Once service is done, please return with your call number to pick up your child.
ROCK CLIMBERS (4 years old - Kindergarten) and SUMMIT KIDS (1st-5th Grade) meet in the lower level. Both groups start out together in the fellowship hall for worship and announcements. Afterwards, children will move to into a different rooms based on age so everyone can engage in age appropriate learning through stories, games and activities.
We'd love to hear from you. Fill out the form below to get started.